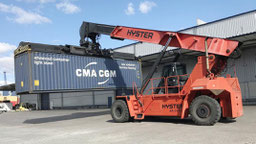 We have sold one unit used reachstacker Hyster model RS45-31CH, year 2008 to a fruit company in Poland , port of Gdansk.
This laden-container handler has 45 tons capacity, lifting 15.400 mm high, equipped with diesel engine Cummins QSM11, Tier 3 with 272 KW . 
For transport by road this containerstacker is being disassembled into three parts : chassis, telescopic boom and spreader Elme 817.
Transport will be done by heavy transport specialist company from Poland ZTE Katowice .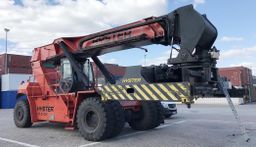 Nous avons vendu une unité de rich staker Hyster d'occasion, modèle RS45-31CH, année 2008, à une société de fruits en Pologne, port de Gdansk.
Ce manipulateur de conteneurs chargés a une capacité de 45 tonnes, avec une hauteur de levage de 15.400 mm, équipé d'un moteur diesel Cummins QSM11, Tier 3 avec 272 KW . 
Pour le transport par route, ce gerbeur de conteneurs est démonté en trois parties : châssis, flèche télescopique et palonnier Elme 817.
Le transport sera effectué par la société polonaise ZTE Katowice, spécialisée dans le transport lourd. 

Hemos vendido una unidad reach stacker de segunda mano Hyster modelo RS45-31CH, año 2008 a una empresa de frutas en Polonia, puerto de Gdansk.
Esta grua contenedores tiene una capacidad de 45 toneladas, con una altura de elevación de 15.400 mm, equipado con un motor diesel Cummins QSM11, Tier 3 con 272 KW . 
Para el transporte por carretera, este portacontenedores se desmonta en tres partes: chasis, pluma telescópica y esparcidor Elme 817.
El transporte será realizado por la empresa especializada en transporte pesado de Polonia ZTE Katowice.