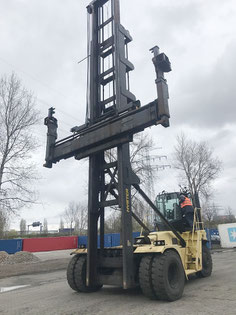 In May 2021 we sold a container forklift - containerstacker Hyster model H22XM-12EC, year 2014 to Quito - Ecuador to a container depot.
Before delivery of this second-hand empty-container handler the Cummins engine QSB6.7 was overhauled .
Machine was shipped with Hapag Lloyd to the port of Posorja by a Belgian shipping agent. Customer organised the transport on its own. For shipping machine was disassembled into three parts (chassis - liftmast and spreader).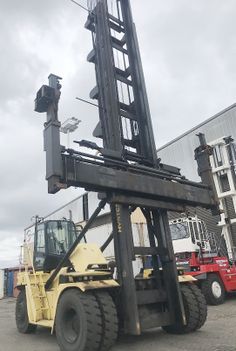 En mai 2021 nous avons vendu un chariot élévateur - gerbeur de conteneurs Hyster modèle H22XM-12EC, année 2014 à Quito - Equateur à un dépôt de conteneurs.
Avant la livraison de cet appareil de manutention de conteneurs vides d'occasion, le moteur Cummins QSB6.7 a été révisé.
La machine a été expédiée avec Hapag Lloyd au port de Posorja par un agent maritime belge. Le client a organisé lui-même le transport. Pour le transport, la machine a été démontée en trois parties (châssis - mât élévateur et épandeur).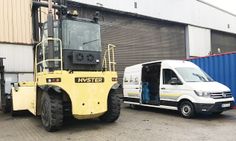 En mayo de 2021 vendimos una carretilla elevadora de contenedores Hyster modelo H22XM-12EC, año 2014 a Quito - Ecuador a un depósito de contenedores.
Antes de la entrega de este manipulador de contenedores vacíos de segunda mano se revisó el motor Cummins QSB6.7 .
La máquina fue enviada con Hapag Lloyd al puerto de Posorja por un agente marítimo belga. El cliente organizó el transporte por su cuenta. Para el envío, la máquina se desmontó en tres partes (chasis, mástil elevador y esparcidor).