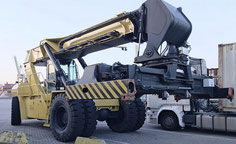 A second-hand reachstacker Hyster model RS46-36CH, year 2006, Cummins engine QMS11 was sold to Tunisia, port Rades in June 2021.  Transport for this used containerstacker was carried out by the customer himself with the shipping line CMA CGM.
For transport machine was disassembled into 5 pieces (chassis, telescopic boom, counterweight, spreader and two front tires). Chassis Hyster was stuffed onto a 40´flatrack OOG , spreader counterweight and tires onto a 40´flatrack in gauge and telescopic boom into a 40´container.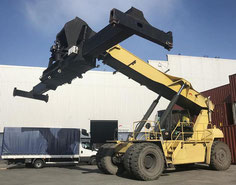 Un rich staker d'occasion Hyster modèle RS46-36CH, année 2006, moteur Cummins QMS11 a été vendu à la Tunisie, port de Radès en juin 2021.  Le transport de ce gerbeur de conteneurs d'occasion a été effectué par le client lui-même avec la compagnie maritime CMA CGM.
Pour le transport, la machine a été démontée en 5 pièces (châssis, flèche télescopique, contrepoids, épandeur et deux pneus avant). Le châssis Hyster a été placé sur un flatrack de 40 pieds OOG, le contrepoids et les pneus du spreader sur un flatrack de 40 pieds en gabarit et la flèche télescopique dans un conteneur de 40 pieds.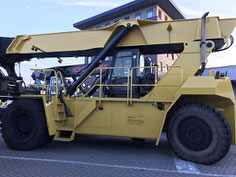 Una reachstacker de segunda mano Hyster modelo RS46-36CH, año 2006, motor Cummins QMS11 fue vendida a Túnez, puerto Rades en junio de 2021.  El transporte de esta apiladora de contenedores usada fue realizado por el propio cliente con la naviera CMA CGM.
Para el transporte la reach staker fue desmontada en 5 piezas (chasis, brazo telescópico, contrapeso, esparcidor y dos neumáticos delanteros). El chasis Hyster se introdujo en un flatrack de 40' OOG, el contrapeso y los neumáticos en un flatrack de 40' en calibre y la pluma telescópica en un contenedor de 40'.