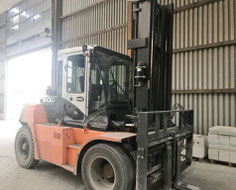 two units second hand big forklift Doosan model D90S-7, year 2016 and 2017 have been sold to a Doosan dealer in the Netherlands.

These heavy duty forklift trucks with 9 tons capacity, 4.600 mm lifting height have been working in a concrete plant in Northern Germany.
Transport of these small used forklift trucks was done by a forwarding agent from the Netherlands.
Now 2 units big forklift Hyster H9.00XM heavy duty version are working in the  concrete plant .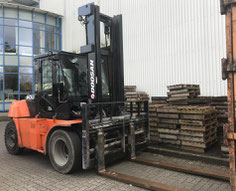 Dos unidades montacarga grande de segunda mano Doosan modelo D90S-7, año 2016 y 2017 han sido vendidas a un distribuidor de Doosan en los Países Bajos.
Esta carretilla elevadora grande capacidad de 9 toneladas y una altura de elevación de 4.600 mm han estado trabajando en una planta de hormigón en el norte de Alemania.
El transporte de la carretilla elevadora segunda mano fue realizado por un agente de transporte de los Países Bajos.
Ahora 2 unidades de carretilla elevadora grande tonelaje Hyster H9.00XM versión pesada están trabajando en la planta de hormigón .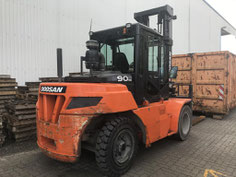 Deux chariots élévateurs Doosan d'occasion, modèle D90S-7, année 2016 et 2017, ont été vendus à un concessionnaire Doosan aux Pays-Bas.
Ces gros chariots élévateurs à fourche d'une capacité de 9 tonnes et d'une hauteur de levage de 4 600 mm ont été utilisés dans une usine de béton dans le nord de l'Allemagne.
Le transport du chariot elevateur gros tonnage d'occasion a été effectué par un transitaire des Pays-Bas.
Aujourd'hui, deux gros chariots élévateurs Hyster H9.00XM version lourde sont utilisés dans la centrale à béton.