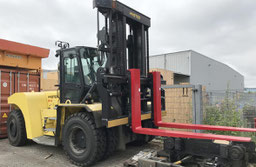 One unit used heavy duty forklift Hyster H25XMS-9, year 2014 has  been sold to Northern France to a dealer in the port of Le Havre.
This big forklift has a capacity of 25 tons at 900 mm loadcenter, a duplex mast with 3.800 mm lifting height and a weight of 38,5 tons. A diesel engine Cummins QSB6.7 (201 KW) and a Dana Spicer gearbox. 
The chassis is quite short to allow the forklift driver to move parts in container packing depots also in narrow spaces.
The container lifter was transported with a roro ship from Grimaldi from the terminal Unikai to the port of Le Havre. Transport to the terminal was done by the heavy road transport specialist Stange Hamburg.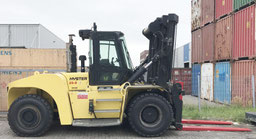 Una montacarga grande usada Hyster H25XMS-9, año 2014 fue vendida al norte de Francia a un comerciante del puerto de Le Havre.
La carretilla elevadora grande tiene una capacidad de 25 toneladas en un centro de carga de 900 mm, un mástil dúplex con una altura de elevación de 3.800 mm y un peso de 38,5 toneladas. Un motor diesel Cummins QSB6.7 (201 KW) y una caja de cambios Dana Spicer. 
El chasis es bastante corto para permitir al conductor de la carretilla elevadora mover las piezas en los depósitos de embalaje de contenedores también en espacios estrechos.
La máquina fue transportada con un barco roro de Grimaldi desde la terminal Unikai al puerto de Le Havre. El transporte a la terminal fue realizado por el especialista en transporte pesado por carretera Stange Hamburg.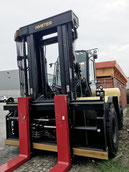 Un chariot elevateur gros tonnage Hyster H25XMS-9, année 2014 a été vendue au Nord de la France à un concessionnaire du port du Havre.
Ce gros chariot elevateur a une capacité de 25 tonnes avec un centre de charge de 900 mm, un mât duplex avec une hauteur de levage de 3.800 mm et un poids de 38,5 tonnes. Un moteur diesel Cummins QSB6.7 (201 KW) et une boîte de vitesses Dana Spicer. 
Le châssis est assez court pour permettre au cariste de déplacer des pièces dans des dépôts d'emballage de conteneurs, même dans des espaces étroits.
La machine a été transportée avec un navire roro de Grimaldi du terminal Unikai au port du Havre. Le transport vers le terminal a été effectué par le spécialiste du transport routier lourd Stange Hamburg.