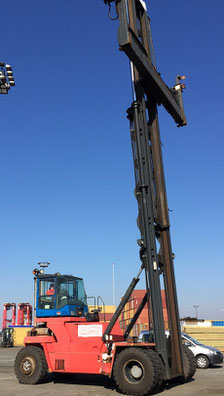 One new Volvo diesel engine and one used empty container handler Kalmar DCE90-45E7 year 2006 has been shipped to Chile.
This containerstacker can lift 2 empty containers in one lift due to the double lift function of the spreader . Lifting height is 7 containers high.
The container forklift will work in the port of San Antonio for Dycsa Depositos y Contenedores, one of the biggest container depot operators in Chile.
For shipping such a container lifter it needs to be disassembled into three parts. Chassis is stuffed and lashed onto a 40´flatrack with overheight and overwidth.  Spreader and liftmast has been stuffed into an 40´open top container, to prevent damages to these parts during transport.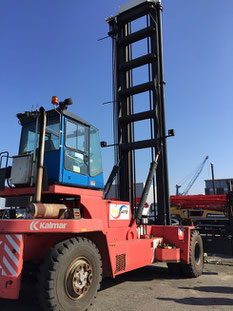 Hemos enviado a Chile un nuevo motor diesel Volvo y una carretilla contenedores para vacíos usada Kalmar DCE90-45E7 año 2006.
Esta carretilla para contenedores puede levantar 2 contenedores vacíos en una sola elevación debido a la doble función de elevación del esparcidor . La altura de elevación es de 7 contenedores.
Esta carretilla porta contenedores trabajará en el puerto de San Antonio para Dycsa Depósitos y Contenedores, uno de los mayores operadores de depósitos de contenedores en Chile.
Para el envío, la grua contenedores tuvo que ser desmontada en tres partes. El chasis se ata encima de un flatrack de 40 pies.  El spreader y el mástil de elevación han sido introducidos en un contenedor de 40 pies para prevenir daños a estas partes durante el transporte.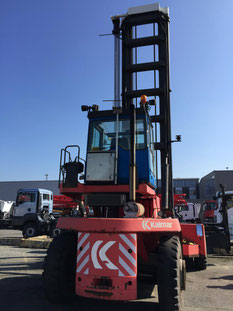 Un nouveau moteur diesel Volvo et un chariot porte-conteneur vides d'occasion Kalmar DCE90-45E7 année 2006 ont été expédiés au Chili.
Ce chariot porte-conteneur peut soulever 2 conteneurs vides en un seul passage grâce à la double fonction de levage du palonnier . La hauteur de levage est de 7 conteneurs.
La machine travaillera dans le port de San Antonio pour Dycsa Depositos y Contenedores, l'un des plus grands opérateurs de dépôts de conteneurs au Chili.
Pour être expédiée, ce chariot porte container doit être démontée en trois parties. Le châssis est rembourré et arrimé sur un plateau de 40 pieds de hauteur et de largeur.  L'épandeur et le mât de levage ont été rembourrés dans un conteneur à toit ouvert de 40 pieds, pour éviter d'endommager ces pièces pendant le transport.