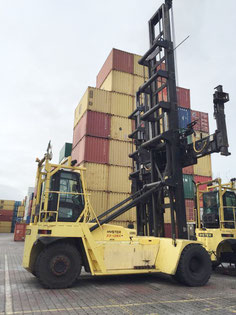 A finales de este años hemos vendido dos carretillas porta-contenedores modelo Hyster H22.00XM-12EC, año 2009 a una empresa de Guayaquil.
Las maquinas tienen una capacidad de 9 toneladas y elevan contenedores vacios 6-7 contenedores de alto.
Ademas tienen la capacidad de elevar dos contenedores vacios a la vez.
Este modelo de carretilla para contenedores tiene un motor diesel Cummins QSB6.7 con 164 KW. Para subir los contenedores esta maquina dispone de un spreader Elme  584 con ganchos.
El transporte maritimo fue hecho en flatracks y contenedores de la compañia naviera Hapag Lloyd al puerto de destino Guayaquil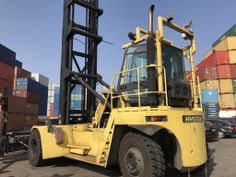 At the end of this year we have sold two Hyster H22.00XM-12EC empty-container handler ,  year 2009,  to a company in Guayaquil, Ecuador
This container lifter has a capacity of 9 tons and lift empty containers 6-7 containers high. They also have the capacity to lift two empty containers at a time.
This model of containerstacker has a Cummins QSB6.7 diesel engine with 164 KW. To lift the containers this machine has an Elme 584 spreader with hooks.
The maritime transport of this  container forklift was made in flatracks and containers of the shipping company Hapag Lloyd to the port of destination Guayaquil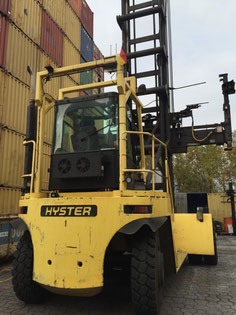 A la fin de cette année, nous avons vendu deux unités de chariot porte-conteneur Hyster modèle H22.00XM-12EC, année 2009, à une entreprise de Guayaquil.
Les machines ont une capacité de 9 tonnes et soulèvent des conteneurs vides de 6 à 7 conteneurs de haut. Ils ont également la capacité de soulever deux conteneurs vides à la fois.
Ce modèle de chariot porte container est équipé d'un moteur Cummins QSB6.7 de 164 KW. Pour soulever les conteneurs, cette machine est équipée d'un spreader Elme 584 avec crochets.
Le transport maritime s'est fait en flatracks et conteneurs de la compagnie maritime Hapag Lloyd jusqu'au port de destination Guayaquil