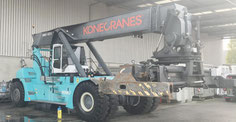 Another of our projects for a customer from Ucraine, who has bought a machine for a containerdepot in Odessa. It is a laden-container used reach staker SMV Konecranes SC4531 TB5, year 2010.
This containerstacker / container lifter is equipped with Scania engine and Clark gearbox. The lifting capacity is 45 tons in the first row and 31 tons in the second row. The weight of such a standard reachstacker (there are much bigger ones) is 72 tons.
For shipment with MSC Mediterranian shipping company the machine needed to be disassembled into 4 parts : chassis, spreader, telescopic boom and counterweight.
The reachstacker chassis has been stuffed onto 40´flatrack OOG, telescopic boom into a 40´open top container . Spreader and counterweight onto a 40´flatrack in gauge.
Before delivery the reach staker has been complete repaired and serviced. You also need such a machine ? contact us !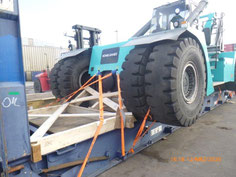 Otro cliente de Ucrania ha comprado para uno de sus clientes, un depósito de contenedores en Odessa, una reachstacker Konecranes SC4531 TB5, año 2010.
La reach staker Konecranes está equipada con un motor Scania y una caja de cambios Clark. La capacidad de elevación es de 45 toneladas en la primera fila y de 31 toneladas en la segunda fila. El peso de una reachstacker estándar de este tipo (hay mucho más grandes) es de 72 toneladas.
Para el envío con la compañía naviera MSC Mediterranian Shipping Company la grua contenedores necesitaba ser desmontada en 4 partes: chasis, esparcidor, pluma telescópica y contrapeso.
El chasis de la grua contenedores se colocó en un 40'flatrack OOG, el brazo telescópico en un contenedor de 40'open top. Esparcidor y contrapeso en un 40'flatrack de calibre.
Antes de la entrega, la máquina ha sido completamente reparada y revisada. Usted también necesita una máquina de este tipo? ¡Contáctenos!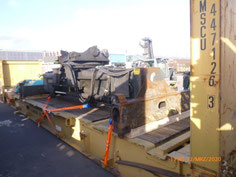 Un autre client d'Ucraine a acheté pour un de ses clients, un containerdepot à Odessa, un gerbeur de conteneurs d´occasion SMV Konecranes SC4531 TB5, année 2010.
Ce rich staker Konecranes est équipée d'un moteur Scania et d'une boîte de vitesses Clark. La capacité de levage est de 45 tonnes au premier rang et de 31 tonnes au deuxième rang. Le poids d'un tel reachstacker standard (il en existe de bien plus gros) est de 72 tonnes.
Pour l'expédition avec la compagnie de navigation MSC Mediterranian shipping company, la machine a dû être démontée en 4 parties : châssis, palonnier, flèche télescopique et contrepoids.
Le châssis du rich staker a été chargé sur un OOG de 40 pieds, la flèche télescopique dans un conteneur de 40 pieds à toit ouvert. L'épandeur et le contrepoids ont été placés sur une plate-forme de 40 pieds de diamètre.
Avant la livraison, la machine a été entièrement réparée et entretenue. Vous avez également besoin d'une telle machine ? Contactez-nous !