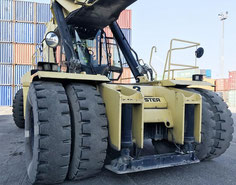 una richstacker usada Hyster RS46-41LS CH, año 2012 fue vendida a una empresa portuaria en Odessa, Ucraina.
Esta grua contenedores tiene una capacidad de 46 toneladas en 1. fila y 41 toneladas en 2. fila. Equipada con un potente motor diesel Cummins sube el contenedo mas pesado.
La reach staker tiene un peso propio de casi 89 toneladas. Tuvo que ser desmontada en varias piezas para ser transportada con camion pesado a su nuevo deposito de contenedores.
El transporte por camion fue hecho por un transportista especializado de Polonia.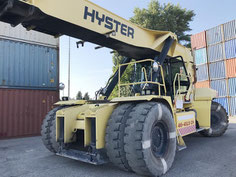 a reachstacker Hyster RS46-41LS CH, year 2012 was sold to a port company in Odessa, Ucraine
The container lifter has a capacity of 46 tons in 1. row and 41 tons in 2. row. Equipped with a powerful Cummins diesel engine it raises the heaviest container even in the third row .
This used containerstacker Hyster has a weight of almost 89 tons. It had to be dismantled into several parts to be transported by heavy truck to its new container yard in Odessa.
The transport by truck was done by a specialized carrier from Poland.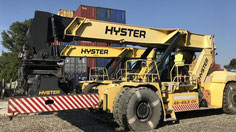 un chariot porte-conteneur Hyster RS46-41LS CH, année 2012 a été vendu à une société portuaire à Odessa, Ukraine
La rich staker a une capacité de 46 tonnes en 1. rangée et 41 tonnes en 2. rangée. Equipé d'un puissant moteur diesel Cummins, il soulève le plus lourd des conteneurs.
La reach staker a un poids propre de près de 89 tonnes. Il a dû être démantelé en plusieurs parties pour être transporté par camion lourd vers son nouveau parc à conteneurs.
Le transport par camion a été effectué par un transporteur spécialisé de Pologne.