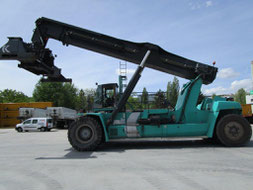 Two units used reachstackers Kalmar DRF450-75S5XS, year 2008 have been sold to Vietnam. Transport has been done by Staas Schwerlast, packing by SWOP Hamburg.
This big forklift for containers has a capacity of 45 tons in the 1. row, 42 tons in the 2. row.Equipped are these machines with a diesel engine Volvo TAD1250VE with 247 KW.
This containerstacker has a weight of nearly 90 tons. It had to be  disassembled into 8 pieces (chassis, boom, spreader and 5 pieces of counterweight).
Maritime transport was done with  the shipping line Maersk.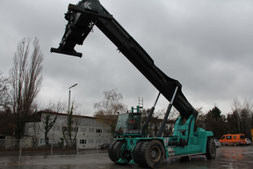 Dos richstaker usadas Kalmar modelo DRF450-75S5XS, año 2008 fueron vendidas a Vietnam.  El transporte fue hecho por el transportista Staas, embalaje en Hamburgo por SWOP Eurogate. 
Estas grua contenedores tienen una capacidad de 45 toneladas en la 1. fila, 42 toneladas en la 2. fila. Están equipadas con un motor diesel Volvo TAD1250VE de 247 KW.
Este tipo de máquina usada tiene un peso de casi 90 toneladas. Tuvo que ser desmontada en 8 piezas (chasis, pluma, spreader y 5 piezas de contrapeso).
El transporte marítimo se hizo con la línea naviera Maersk.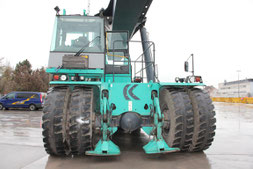 Deux reachstackers occasion Kalmar DRF450-75S5XS annee 2008 ont été vendues à Vietnam. Transport a ete faite de Staas Bremen, emballage par SWOP Hambourg.
Ces gerbeurs de conteneurs ont une capacité de 45 tonnes au premier rang, 42 tonnes au deuxième rang et sont équipées d'un monteur Volvo TAD1250VE de 247 KW.
Ce type de machine d'occasion a un poids de près de 90 tonnes. Elle a dû être démontée en 8 pièces (châssis, flèche, spreader et 5 pièces de contrepoids).
Le transport maritime s'est fait avec la compagnie maritime Maersk.